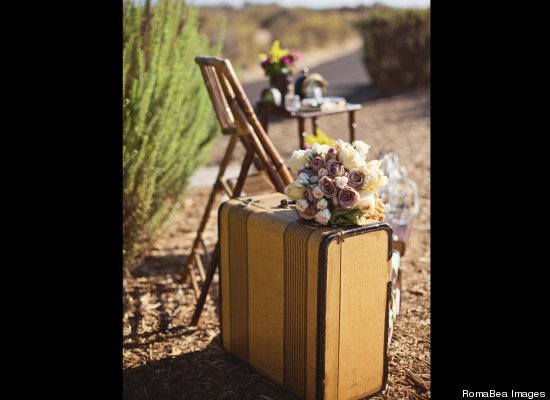 Huffington Post contributor Harmony Walton tells us that the vintage wedding trend is on its way out, and she couldn't be more thrilled. Personally, I actually like this trend (if done correctly and tastefully), but it's never a good idea to channel too much of your weddings style toward something that is trendy and could ever be viewed as kitschy. Take a look at what Harmony had to say!
Harmony Walton: The End Of The Vintage Wedding Trend
: Sprawling fields of high grass, hillsides off in the distance, and ... a gorgeous bride and groom perched on a vintage velvet burgundy chaise. Oh, the memories of the vintage wedding and its somewhat silly staged photographs. The not-so timeless vintage theme is one that often incorporates elements such as 50's era luggage used as décor, mismatched chairs reminiscent of a casual backyard event, and floral vessels made from all types of throwback food canisters.
Thankfully, the vintage wedding trend that took the nation by storm (in no small part due to the relentless plugging by us bridal bloggers), is finally starting to see the shade of its own sunset. And not a moment too soon -- I say let the trend end!
Read more on the demise of the
vintage wedding
trend.